ELM327 ELM OBD2 AUTO SCAN TOOL BLUETOOTH FOR ANDROID ODB II CODE READER SCANNER
Description
ELM327 OBD2 Scan Tool Bluetooth For Android
Diagnostic Code Reader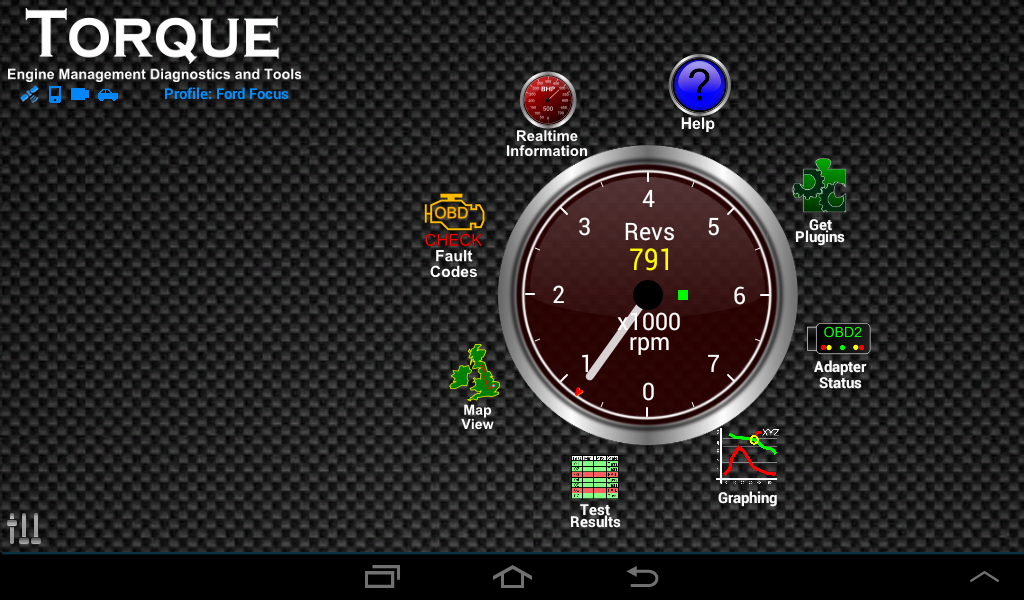 Read diagnostic trouble codes, both and manufacturer-specific, and display their meaning (over 3000 code definitions in the database). Clear trouble codes and turn off the MIL ("Check Engine" light)
Works with all OBD-II compliant vehicles

Supports all OBD2 protocols

Wireless (Bluetooth) 5~10 meter

Software included for Palm, PDA,Mobile

Software included for Windows PC

Software included for Windows Smartphone
Real-Time Fuel Economy & Performance Feedback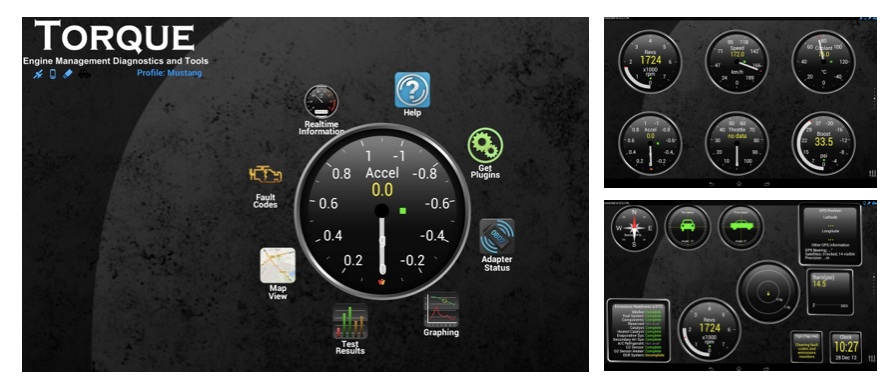 Connect your ELM327 Scan Tool Bluetooth to your preferred performance App and see what your car is doing in real-time: get OBD fault codes, car performance, sensor data and more!
Real-time performance data include:
Engine RPM

Calculated Load Value

Coolant Temperature

Fuel System Status

Vehicle Speed

Short Term Fuel Trim

Long Term Fuel Trim

Intake Manifold Pressure

Timing Advance

Intake Air Temperature

Air Flow Rate

Absolute Throttle Position

Oxygen sensor voltages/associated short term fuel trims

Fuel System status

Fuel Pressure

Many others...
Torque Performance App
Torque is a vehicle / car performance / diagnostics tool and scanner that uses an OBD II Bluetooth adapter to connect to your OBD2 engine management / ECU
Layout your own dashboard with the widgets / gauges you want!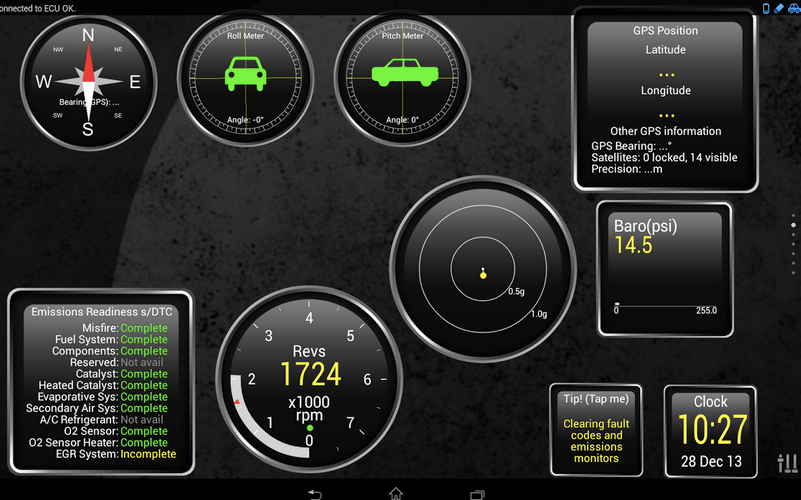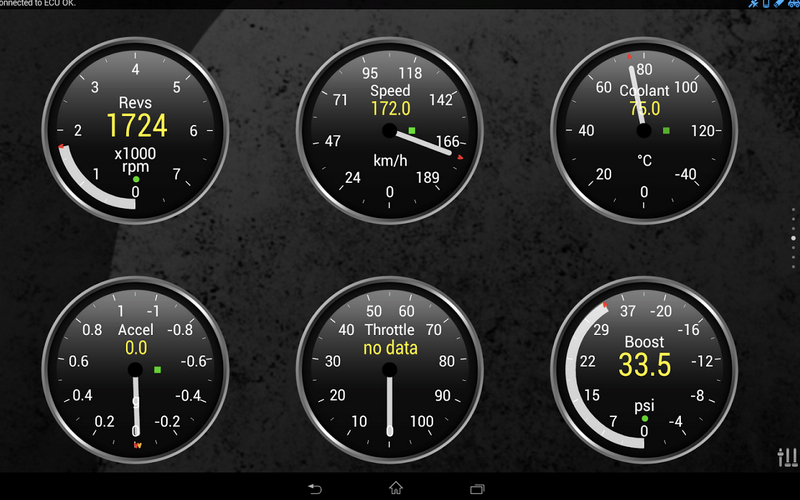 Note: You can choose any OBD2 performance app from google play store. Cost of app is not included.
OBD2 Vehicles
For your vehicle to be OBD II compliant it must have a 16-pin DLC (Data Link Connector) under the dash and the Vehicle Emission Control Information Label must state that the vehicle is OBD II compliant.
List Of OBD2 Compatible Cars:
AUDI
AUDI A1 2008+
AUDI A3 2002+
AUDI A4 2002+
AUDI A4 TURBO 2002+
AUDI A5 2007+
AUDI A6 2002+
AUDI A6 QUATTRO 2002+
AUDI A7 2010+
AUDI A8 2003+
AUDI TT 2002+
AUDI S5 2002+
BMW
BMW E81 1 SERIES 2004+
BMW E46 3 SERIES 2001+
BMW E46 3 SERIES M3 2001+
BMW E90 3 SERIES 2005+
BMW E90 3 SERIES M3 2005+
BMW E39 5 SERIES 2001 +
BMW E60 5 SERIES 2003+
BMW E63/64 6 SERIES 2003+
BMW E65 7 SERIES 2002+
BMW X1 2010+
BMW X3 2004+
BMW X5 2002 +
BMW X5 2003+
BMW X6 2010+
BMW Z3 2002+
BMW Z4 2009+
CHRYSLER
CHRYSLER 300C 2004+
CHRYSLER NEON 1996 +
CHRYSLER PT CRUISER 2000 +
CHRYSLER VOYAGER 1996 +
DODGE AVENGER 2007+
FORD
FORD RANGER UTE 2007+
FORD Falcon XR6 Turbo 2009+
FORD Falcon XR8 2005+
FORD Fiesta 2007+
FORD RANGER 3.2L 2012+
FORD RANGER 3.0L UTE 2007+
FORD TAURUS 1996+
FORD TERRITORY 2006+
HOLDEN
HOLDEN ASTRA 2002+
HOLDEN BARINA 2007+
HOLDEN CAPRICE 2006+
HOLDEN CAPRICE 5.7L 2006+
HOLDEN CAPTIVA 2007+
HOLDEN COLORADO 2008+
HOLDEN CREWMAN 2007+
HOLDEN JACKAROO 1999+
HOLDEN COMMODORE VE 2006 +
HOLDEN COMMODORE VE 6.0L 2006+
HOLDEN COMMODORE VE SIDI 2009+
HOLDEN COMMODORE VT 5.7L 1999
HOLDEN COMMODORE VX 5.7L 2001+
HOLDEN COMMODORE VY 5.7L 2003+
HOLDEN COMMODORE VZ 2005+
HOLDEN COMMODORE VZ 6.0L 2005+
HOLDEN CRUISE 2008+
HOLDEN/CHEV HUMMER 2007+
HOLDEN RODEO 2007 +
HOLDEN STATESMAN 2006+
HOLDEN STATESMAN 6.0L 2006+
HOLDEN SUBURBAN 1998+
HOLDEN TIGRA 2005+
HOLDEN VECTRA 2001+
HOLDEN VIVA 2007+
HONDA
HONDA ACCORD 2007+
HONDA ACCORD
EURO 2007+
HONDA CITY 2009+
HONDA CIVIC 2007 +
HONDA CRV 2007+
HONDA CRZ 2010+
HONDA JAZZ 2006 +
HONDA ODYSSEY 2006+
HONDA S2000 2006+
HYUNDAI
HYUNDAI ACCENT 2006+
HYUNDAI ELANTRA 2006+
HYUNDAI GETZ 2007+
HYUNDAI I20 2007
HYUNDAI i30 2007+
HYUNDAI ix35 2008+
HYUNDAI i45 2010+
HYUNDAI SANTA FE 2.4L Petrol 2012+
HYUNDAI SantaFe 3.3L V6 2008+
HYUNDAI Diesel Auto Transmission 2010+
HYUNDAI SONATA Diesel 2009+
HYUNDAI Terracan Diesel 2007+
HYUNDAI Terracan Petrol 2004+
HYUNDAI iLOAD 2008+
JAGUAR
JAGUAR S TYPE 2002+
JAGUAR X TYPE 2002+
JAGUAR XF 2002+
JAGUAR XJ ( X350 ) 2004+
JAGUAR XJ ( X351 ) 2009+
JEEP
JEEP CHEROKEE 1996 +
JEEP GRAND CHEROKEE 1996+
JEEP WRANGLER 1997 +
KIA
KIA CARNIVAL 2007+
KIA CERATO 2007+
KIA RIO 2007+
KIA SORENTO 2007+
Package includes:
Buyers Who Bought This Item Also Bought
Payment Methods
Related Items